Compact, picometer resolution spectrometers for weak or scattered light
The HyperFine series of spectrometers for low intensity sources are designed for measuring hyperfine spectra and subtle spectral shifts from scattered light or distributed sources.  The HyperFine spectrometer from LightMachinery is a compact  spectrometer capable of 1 picometer resolution.   Enabled by VIPA etalons produced by LightMachinery's patented fluid jet polishing technology.  
The HyperFine HF Series spectrometers are ideal for measuring fine features in plasmas, pulsed laser characterization and for measuring the small spectral shifts from Brillouin or Raman scattering.  Simple PC based software allows the user to review spectra in real time and save or export for more analysis.  LabView drivers enable the HyperFine spectrometer to be integrated into automated experimental setups.
Check out the latest research papers that have been published by researchers using the HyperFine spectrometers here.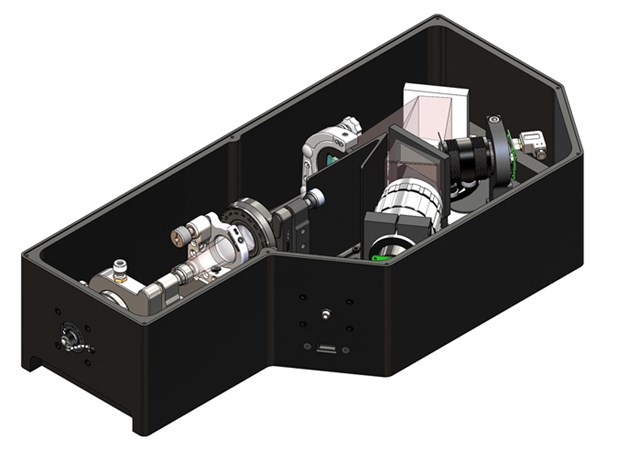 Specifications

Part Number
Spectral Region
Form
Factor
Total range
Simultaneous range
Resolution*
Resolution
with manual grating rotation
pm
1/cm
HF-8888-UVLIBS
UV
C

200 - 400nm

fixed 100nm range

<30pm

0.9/cm

HF-9332
VIS
C

full range

450 - 650 nm

<30pm

0.9/cm

HF-8989-1
VIS
A
400 - 500 nm
15 nm
1.7 pm

0.08/cm

HF-8988**
VIS
A
500 - 550 

nm

15 nm

15 pm

0.55/cm

HF-8989-2
VIS
B
500 - 600 

nm

15 nm

1.6 pm

0.05/cm

HF-8989-2e
VIS
B
525 - 640 

nm

15 nm

1.6 pm

0.04/cm

HF-8989-3
VIS
A
600 - 700 

nm

15 nm

1.6 pm

0.04/cm

HF-8995-1
NIR
B
700 - 800 

nm

25 nm

2.0 pm

0.03/cm

HF-8991-3
NIR
A
800-950 

nm

20 nm

2.0 pm

0.02/cm

HF-8995-2
NIR
A
950 - 1100 

nm

20 nm

2.5 pm

0.02/cm

HF-8999-PK-LLL-***
VIS
 D


See Brillouin HyperFine

1.0 pm

0.04/cm

*-UHR

3X resolution upgrade to any model.

Notes

Form Factors;

A  dimensions; 250 x 600 x 150mm,  weight; 20Kg
B  dimensions; 560 x 330 x 150mm,  weight; 23Kg
C  dimensions; 160 x 200 x 100mm,  weight; 1.5Kg
D  dimensions; 700 x 150 x 400mm,  weight; 28Kg

*Range and resolution are measured at the middle of the wavelength range
Accuracy: < 200pm for fixed grating units, <20pm for all others following calibration, an external calibration source is required
Dynamic Range: 100:1 to 500:1 in a single shot measurement, up to 50dB with exposure bracketing
Simultaneous range / resolution: >10,000 at 532nm
Acquisition speed: >10Hz typical
** High Throughput ~25%, centered at 525nm, entrance slit of ~70x70um, F/4, with cooled CCD Retiga 3
***HF-8999-532-AUTO is specifically designed for Brillouin scattering and includes a multi-pass etalon for 532nm elastic scattering suppression.

Options

MMF input with a 10um slit, 

SMF input with no slit is standard

Low resolution mode, covers the total range with 0.2nm resolution
Camera Options; 

CMOS for laser characterization, passive element characterization, Brillouin, Raman and solar spectroscopy
CCD for low light applications (non -scanning of Brillouin biological samples)
Scientific CMOS for low light applications requiring fast acquisition
ICCD for applications requiring gating (LIBS)

UV C-MOS with good quantum efficiency down to 260nm

Features

FAST, No moving parts (single shot laser spectrum analysis)
Sub picometer resolution
Fiber optic input
Quick data acquisition and export
Simple USB interface
LabView Drivers

Benefits

Fast
Compact
Can resolve hyper fine spectra below 1 picometer
Ultra-reliable
LightMachinery's legendary customer support

Light sources characterization

Lasers of all types
Single shot pulsed laser spectrum 
Super luminescent diodes
Gas discharge lamps, etc

Spectroscopy

Plasma spectroscopy
High-precision gas spectroscopy
Brillouin or Raman spectroscopy
Femtosecond comb fingerprinting spectroscopy
Spectral-domain optical coherence tomography, etc
Solar spectroscopy
Astronomical spectroscopy
Ultra low frequency Raman
Undergraduate physics and chemistry laboratories

Zeeman splitting
Hyperfine magnetic structure of elements
Hydrogen structure
Doppler shift of Fraunhofer lines due to sun rotation

Passive components characterization

Notch filters
Etalons
Fiber Bragg gratings, etc

How Does it Work?

Light enters the HyperFine Spectrometer though a fiber.   A VIPA etalon, manufactured using LightMachinery's proprietary fluid jet polishing technology,  is used to produce very high dispersion in the vertical axis with sub picometer resolution.  This is followed by a conventional grating to disperse overlapping orders in the horizontal direction and produce a 2D spectrum of the input light.  LightMachinery software unwraps the spectrum to produce an ultra high resolution wavelength spectrum of the input light.  A secondary camera provides a wide wavelength range, lower resolution view of the spectrum. 

Our new SpectraLoK software is designed to be a reliable, feature-packed interface for setting up your LightMachinery spectrometer, viewing spectra and organizing your data.  Please contact us to request a demo copy of SpectraLoK.
Download the HyperFine Spectrometer White Papers, Datasheet & Drawings
EXAMPLES OF COOL SPECTRA MEASURED WITH THE HYPERFINE SPECTOMETER - CLICK TO ENLARGE