The Ultimate OSA for Telecom Device Production - Like a regular OSA but 100x FASTER!
The Optical Spectrum Analyzer has been a work horse for the telecommunications industry for decades.  We thought it was time to revolutionize the performance of the OSA and  re-think the design of the instrument for high speed production environments.  The Ultra-OSA solves the biggest drawback of the technology (speed) while retaining the resolution and sensitivity.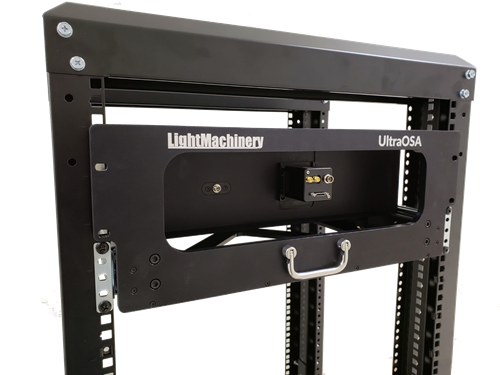 Specifications

High sensitivity InGaAs camera

Acquisition and processing time: <  25 msecs for the complete spectrum 
Continuous Spectra at 60Hz
Resolution: sub 50pm at 1550nm (resolving power > 30,000 to >300,000)

Simultaneous range / resolution: >2000 at 1550nm

Accuracy:  based on an external calibration source is required
Dynamic Range: 100:1 to 500:1 in a single shot measurement, up to 50dB with exposure bracketing 
Wavelength range:  NIR (1260nm to 1675nm)

Part Number
Spectral Region
Wavelength Range
Resolution
UO-10785-HRO
O Band
1260nm - 1360nm
40pm
UO-10785-URO
O Band
10nm within 1260nm - 1360nm
4pm
UO-10785-HRE
E Band
1360nm - 1460nm
40pm
UO-10785-URE
E Band
10nm within 1360nm - 1460nm
4pm
UO-10785-HRS
S Band
1460nm - 1530nm
40pm
UO-10785-URS
S Band
10nm within 1460nm - 1530nm
4pm
UO-10788-LRCL
C AND L Band
1530nm - 1650nm
50pm
UO-10785-HRC
C Band
1530nm - 1565nm
15pm
UO-10785-URC
C Band
10nm within 1530nm - 1565nm
4pm
UO-10785-HRLC
C OR L Band
 1530nm -1565nm OR 

1565nm - 1625nm

40pm
UO-10785-URL
L Band
10nm within 1565nm - 1625nm
4pm
UO-10785-HRU
U Band
1625nm - 1675nm
25pm
UO-10785-URU
U Band
10nm within 1626nm - 1675nm
4pm

Notes

Form Factor F,  dimensions; 400 x 500 x 150mm,  weight; 24kg
Other wavelength ranges and resolutions available by request
Prices listed are FCA LightMachinery.  Please contact your local distributor for prices in your region

Features

No moving parts (single shot laser spectrum analysis)
Simple to use
Sub 30pm picometer resolution
Fiber optic input
FAST >40Hz  data acquisition and export
Simple USB interface
LabView Drivers

Benefits

Can measure spectra from cw and pulsed sources
Fast real time measurements
Ultra-reliable
LightMachinery's legendary customer support

Our new SpectraLoK software is designed to be a reliable, feature packed interface for setting up your LightMachinery spectrometer, viewing spectra and organizing your data.  You can download and try it (it is a .exe file so your anti-virus software might require some reassurance)

Click here to download the SpectraLoK Software , this includes  a short cut to the experimental virtual camera to allow the partial use of the software without a spectrometer.
DOWNLOAD MORE INFORMATION:
COOL IMAGES OF THINGS THAT CAN BE EASILY MEASURED USING THE ULTRAOSA