World Leaders in Process Development, Thin Film Design and Reliable Thin Film Deposition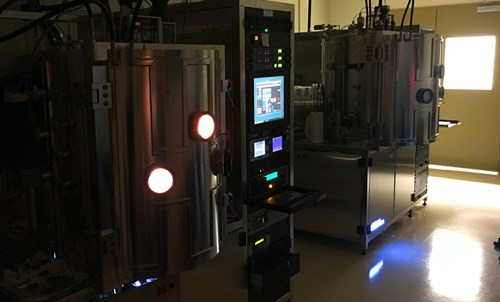 Advanced Automated Coating Capability
From the UV through the visible to the IR we have a very broad range of thin film coating capability.  LightMachinery uses six chambers each with their own unique capability.  From  our newest plasma assisted reactive magnetron sputtering systems to our trusty our e-beam and thermal systems we decades of experience and technology that we can apply to meet your unique requirements.  Our proprietary technology allows us to control depositions to heroic levels and to create durable coatings that solve real world problems.  Our thin film deposition is truly at the cutting edge technology today.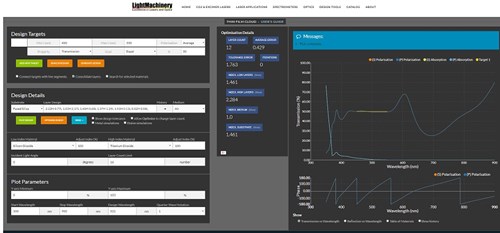 Our revolutionary, free,  cloud based thin film design software, Thin Film Cloud, allows even novice users to design complex thin film optical coatings.  The cloud based system uses Big Data technology to store thousands of designs and optimize their performance for your requirements.  It is truly a great example of a human / machine learning system.  If you are interested at all in thin film coatings you are going to be fascinated by this tool (we are!).  
If you have questions or applications involving thin film coatings do not hesitate to contact us to discuss the various parameters and trade-offs.   Free advice is our specialty.
A small sample of coatings from LightMachinery
Check out our Catalog and our Calculators!
Most of the optics we make are custom made but we still have an interesting catalog.  Check it out! 
Design etalons, lenses, resonators, VIPA's and explore optical material properties.