Compact, high sensitivity, high resolution spectrometers in the Vis and NIR
The UltraRaman series of spectrometers are based on LightMachinery's patented Fluid Jet Polishing technology.  Designed for measuring high resolution Raman spectra, the UltraRaman spectrometer from LightMachinery is capable of better than 100 picometer resolution.   The compact UltraRaman spectrometer achieves the resolution of large grating spectrometers while covering a larger wavelength range.  It has great sensitivity utilizing high transmission optics, a cooled CCD camera and an effective slit size of 10um wide by 50um tall.  Simple PC based software allows the user to review spectra in real time and save or export for more analysis.  Labview drivers enable the UltraRaman spectrometer to be integrated into automated experimental setups.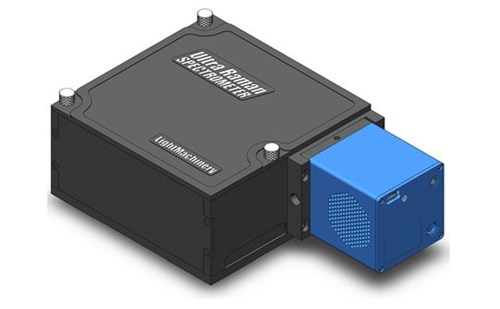 Specifications

Resolution: sub 30pm at 532nm (resolving power > 20,000)
Accuracy: < 200pm following calibration, an external calibration source is required
Dynamic Range: 100:1 to 500:1 in a single shot measurement, up to 50dB with exposure bracketing 
Cooled CCD Camera
Simultaneous range / resolution: >10,000 at 532nm
Acquisition and processing speed: >10 Hz

Part Number
Spectral Region
Wavelength Range
Resolution

UR-9340

UV
260nm - 425nm
<30pm
UR-9332
Visible
425nm - 700

nm

<30pm

UR-9353

NIR

700nm - 1050nm

<40pm

Features

Simple to use
Sub 30pm picometer resolution
Cooled CCD Camera
Fiber optic input
Quick data acquisition and export
Simple USB interface
LabView Drivers
No moving parts (single shot laser spectrum analysis)

Benefits

Range - resolution ratio up to 10,000
Fast
Ultra-Compact
Fast real time measurements
Ultra-reliable
LightMachinery's legendary customer support

Applications

The UltraRaman spectrometer is ideal for....

Our new SpectraLoK software is designed to be a reliable, feature packed interface for setting up your LightMachinery spectrometer, viewing spectra and organizing your data.  You can download and try it (it is a .exe file so your anti-virus software might require some reassurance)

Click here to download the SpectraLoK Software , this includes  a short cut to the experimental virtual camera to allow the partial use of the software without a spectrometer.
Downloads